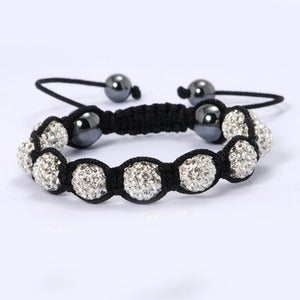 $

79.95
By far the most popular style across the board, this bracelet shines, it is absolutly stunning. with over 48 Crystals on each ball you can see right away that this looks like an expensive $10,000 diamond bracelet...for a fraction of the cost. The quality doesn't come any higher than this.
Wear this to your next event and get ready for the complements.
This Unisex bracelet can fit any man or womans wrist.
9 disco balls, 10mm
White Clay Housing
CZ Crystal Diamonds
4 hemitite balls
black thread